Paintless Minor Dent Removal
Save time and money with the body shop alternative!
Call 508-878-7314.
Paintless Dent Repair Falmouth MA
Offering paintless dent repair (PDR), ding and dent removal for cars and trucks.
Save time and money! Call 508-878-7314.
Ding Doctor of Falmouth, MA has been in business for over 25 years removing dents from all makes and models of automobiles. Serving all of Falmouth, MA, we offer free on-site estimates by appointment only. We accept auto insurance so let our experts quickly and painlessly repair the dents in your vehicle without removing the paint!
When the work is completed by a highly skilled technician, most dings and dents can be repaired without a trace. New techniques have been developed that can repair the ding with the original paint in place.
What Can Be Fixed
Paintless Dent Removal is a technique to remove dents often up to the size of a football or larger.
Advantages of Paintless Dent Repair
There are a number advantages for paintless dent repair, such as maintaining the original paint on a vehicle.
Hail Damage Experts
Does your car or truck have hail damage from a recent storm? The Ding Doctor of Massachusetts has a four-step process that will ensure the hail damage to your car or truck is repaired promptly.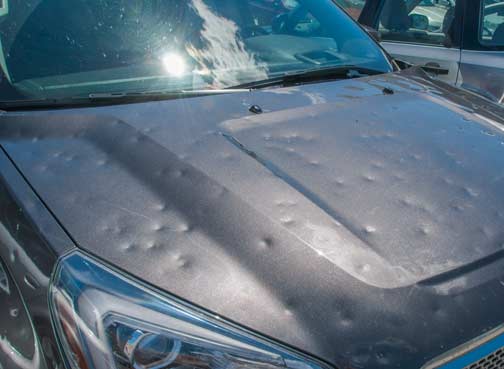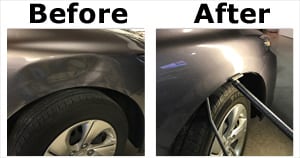 Consumer Awareness Increasing
Paintless dent removal (PDR) has become widely used over the past decade by car dealers, rental agencies, and auctions to prepare vehicles for resale. Yet very few consumers are aware the process exists.
Specially fabricated tools and techniques for PDR have been developed to remove dents, often up to the size of a football, while preserving your factory finish. No sanding, body filler or repainting is necessary. In most cases, when the process is complete, the dent is no longer visible.
Call Ding Doctor of Massachusetts Inc. today for a free on-site estimate at 508-878-7314!
Ding Doctor of Massachusetts offers consumers convenience and quality while saving them time and money.
Steve Shapiro, the founder of Ding Doctor, has been in the PDR business since 1991 repairing hail damaged and dented vehicles all over the USA, Canada, Mexico and Europe and is the company's master technician. The Ding Doctor provides excellent workmanship, quality customer service, and on-time scheduling at competitive prices.
Paintless Dent Repair on the Rise
PDR is becoming more widely used because the size of dent that can be repaired has increased over the last few years. They have developed techniques to repair a dent the size of a football, and just a few years ago we were only repairing dents the size of a tennis ball.
The widespread use of high-strength metal and resilient paint finishes has allowed PDR to become a viable alternative to traditional body repair techniques. In fact, some insurance companies will even waive the deductible if PDR is chosen over more traditional techniques, so call our experts at Ding Doctor of Massachusetts Inc. today at 508-878-7314!
We proudly service the following areas: Falmouth, Hyannis, Plymouth, Sandwich, Mashpee, Barnstable & Wareham MA
Call today to see if your area is covered!
Dedicated to Customer Satisfaction
Click here to leave a review!
"I recently called Steve the Ding Doctor about some dents in my show car. He set up a time to come to my house and was here exactly when he said he would be. He did an outstanding job removing the dents. I am very particular about work I have done on my vehicle and he exceeded my expectations. His quality of work, honesty and professionalism is commendable. I highly recommend him!"
Stephen Francesshelli - December 2018
Contact Us Today
Ding Doctor of Massachusetts Inc.